Free online access to articles on the Lower Omo Valley - for a limited period!
A special section from the Journal of Eastern African Studies (Volume 5, Issue 1, 2011), on 'History, locality and identity along the Lower Omo' has been made available for free online access until the end of October, 2013.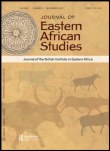 The section is made up of the following articles.
Place-making, participative archaeologies and Mursi megaliths: some implications for aspects of pre- and proto-history in the  Horn of Africa, Timothy Clack and Marcus Brittain
Landscape change in the lower Omo valley, southwestern Ethiopia: burning patterns and woody encroachment in the savanna, Graciela Gil-Romera, David Turton and Miguel Sevilla-Calejo
Primary identities in the lower Omo valley: migration, cataclysm, conflict and amalgamation, 1750-1910, Marco Bassi
Wilderness, wasteland or home? Three ways of imagining the lower Omo valley, David Turton
Plato on the Omo: reflections on decision-making among the Kara of southern Ethiopia, Felix Girke,
The formation of ethnic identity in South Omo: the Dassenech, Neal Sobania
To access the articles, click here.